So in between ODing on basketball last weekend I made a massive batch of cookies. Triple chocolate cookies to be exact - from a recipe in the America's Test Kitchen Cookbook. I'd made these cookies once before and they turned out fantastically, so this time I decided to go for a double batch. The triple chocolate is not a misnomer, they take a good bit of cocoa powder (Dutch processed a must according to the recipe), a pound of melted semi-sweet chocolate, and just under a pound of non-melted chips mixed in at the end (a la chocolate chip cookies.) So since I was doubling the recipe, that meant I needed nearly 4 pounds of chocolate! Good thing we had picked up a massive bag of chips at Costco a few weeks ago.

As expected the batch of dough was nearly too much for our mixer, but I did manage to make it barely fit. True, the bottom of the batch didn't have many chips when we were scooping out the cookies, but I think they'll still taste great.

One thing I love about the ATK book is that they include specific directions for freezing the dough to bake later. So K and I portioned about 5-6 dozen balls of the cookie dough, baked up a tray of 8 and froze off the rest.

I think they turned out really nicely once again. We've made a few other cookie recipes from the book including
Peanut butter - I loved them, K didn't like real chopped up peanuts in the cookies
Chocolate chip - Good, but we both prefer the classic tollhouse recipe. The ATK version's are larger and rise up a bit in the middle.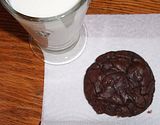 In fact, I think I'll bake up a small tray this evening to have while I watch some more basketball!